God asked the prophet Elijah that very question in 1 Kings 19, emphasis on HERE. It was a bit of a rebuke from the Lord as He just led Elijah to victory at the famous Altar Call of 1 Kings 18. Elijah should have been riding high and not fearing Queen Jezebel in the least, but instead, Elijah chose to run in fear. He was worn out, stressed out and life was distorted. Elijah was not thinking straight. Stress and fear can cause us to run.
God had a To Do List for Elijah and instead of beating him up, God provided rest and strength and spoke to him in a gentle whisper. Elijah was spooked into a retreat of rest and spirituality….and then he was empowered to get back to the God-work in his life.
Is the Holy Spirit asking you what you are doing? Should He? Are you stressed to the max? In need of rest? Running in fear? Take some time and read through the 1 Kings 18-19 passage and put yourself in Elijah's shoes.
God has a To Do List for each of us…are we knocking things off that list? Only you can answer that.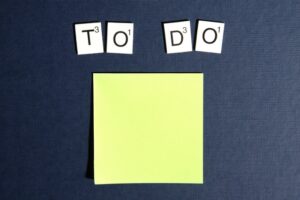 God asked the prophet Elijah that very question in 1 Kings 19, emphasis on HERE. It was a bit of a rebuke from the Lord
Read More »