ADONAI TSEVA'OT
The LORD of Heaven's Armies
from You Version
1 Samuel 17.45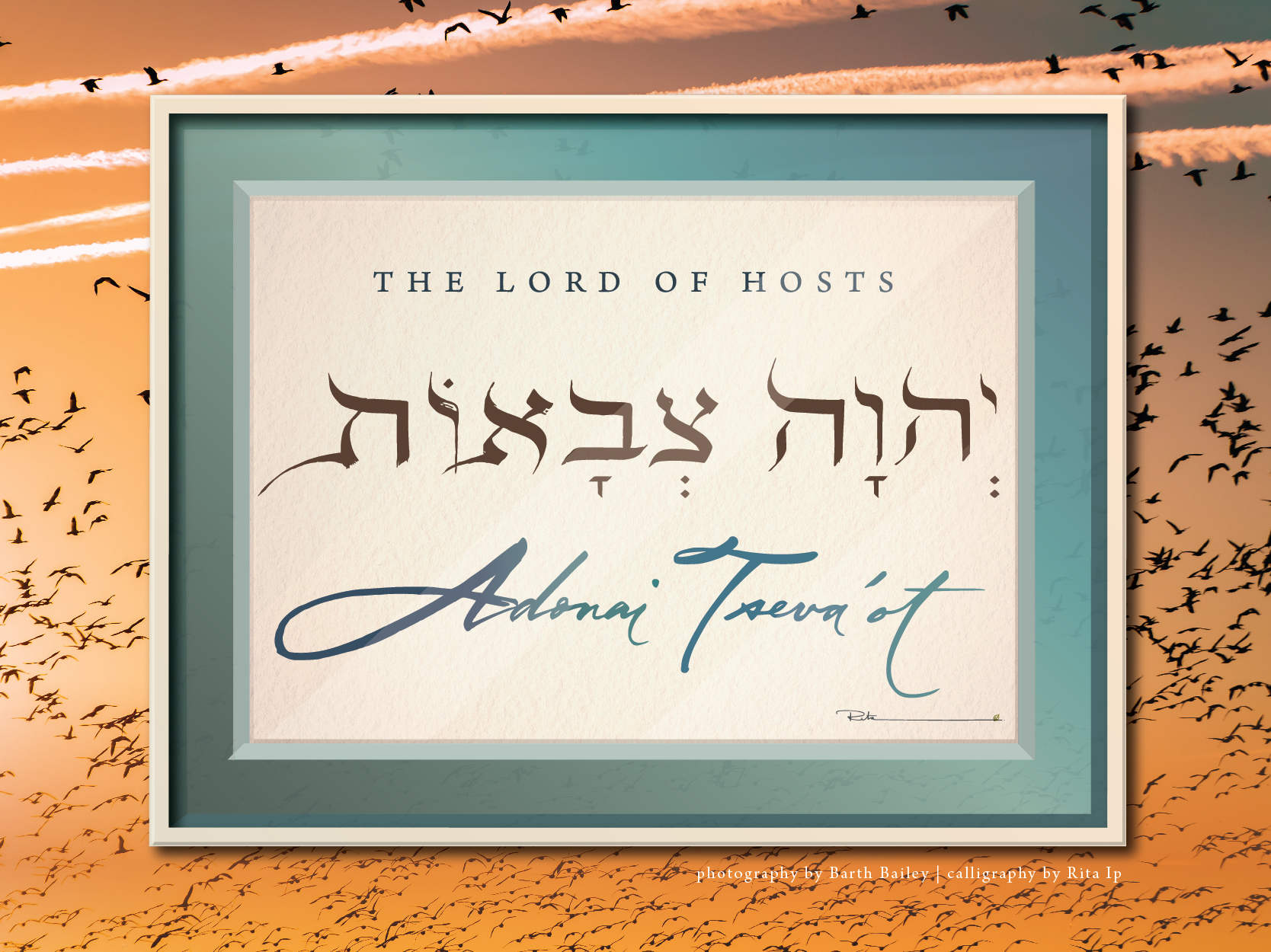 PRAYER
The LORD of Heaven's Armies, I praise You for Your sovereignty over every power in earthly and spiritual realms. There are innumerable armies of angels at Your disposal. All creation moves at Your command and serves Your purpose.
Thank You for the power in me that is always greater than the power in the world. You never stop working in my life. You send Your mighty armies to protect me and to fight for me.
Forgive me when I am engulfed in fear and despair as if You were absent, powerless, or uninterested in my struggles. Forgive me when I forget that the battles are Yours, and I just need to be still.
Grant me wisdom to choose my battles and faith to allow You to fight for me.
Because You are the LORD of Heaven's Armies, I declare that there is no real threat in my life, for I am securely protected by an invincible power.
………………………………………………………………………………….
A FEW FACTS…
Adonai Tseva'ot is a name that signifies "the God of the Angel Armies" in Hebrew. It carries various translations, including "the LORD of Armies," "the LORD of Hosts," "the LORD of the Heavenly Armies," "the LORD of Powers," and "LORD Almighty." This name highlights the abundant resources and might that God possesses.
Tsava or tzava is the Hebrew word for army or host, referring to a large organized army. It is often used in the Bible to describe the angelic armies of God. In modern times, the same word is used to refer to the Israeli Defense Force. Tzavaot is the plural form, meaning multiple armies.
The term "Adonai Tseva'ot" appeared 235 times in the Bible. Two notable events where it is highlighted are as follows: Hannah, who was deeply troubled by her barrenness, cried out to God by this name (1 Samuel 1:11). When a young David stepped up to face Goliath, he declared that he came in the name of Adonai Tseva'ot (1 Samuel 17:45).
………………………………………………………………………………….
EXERCISE 1:
TWO-WAY JOURNALING
Today we will write to the LORD of Heaven's Armies. Imagine the symphony of celestial forces at His disposal, ready to accomplish His divine will. What words or queries do you wish to express to the One who has innumerable armies at His disposal? Let us invite the Holy Spirit to direct us into a profound and meaningful conversation. Stay attuned to His response, and pen down what you receive in the spirit.
[Part 1]
Dear Father, the LORD of Heaven's Armies, …
[Part 2]
Dear child / (your name), …
………………………………………………………………………………….
EXERCISE 2:
DECLARATION
He is the LORD of Heaven's Armies. He has limitless resources. Nothing is beyond His control or capability. How does this truth impact the way you live? Take a moment to craft a declaration that aligns with your present circumstances.
Because You are the LORD of Heaven's Armies, I declare I can / I will / I am…
Feel the power of your faith surge as you vocalize your declaration to both Him and yourself. Enunciate each syllable deliberately, infusing it with absolute certainty. These are simple steps to renew and rewire your mind, positioning you for triumph.
………………………………………………………………………………….
BLESSINGS
Day 29 of HE draws to a close. I echo Elisha's prayer for his servant upon you. May the Lord open your eyes to behold the mighty army that surrounds you, ensuring that you outnumber the enemy (2 Kings 6:16-17). Embrace this divine truth and step boldly into God's reality!