EL EMUNAH
from You Version
The Faithful God
Deut. 32.4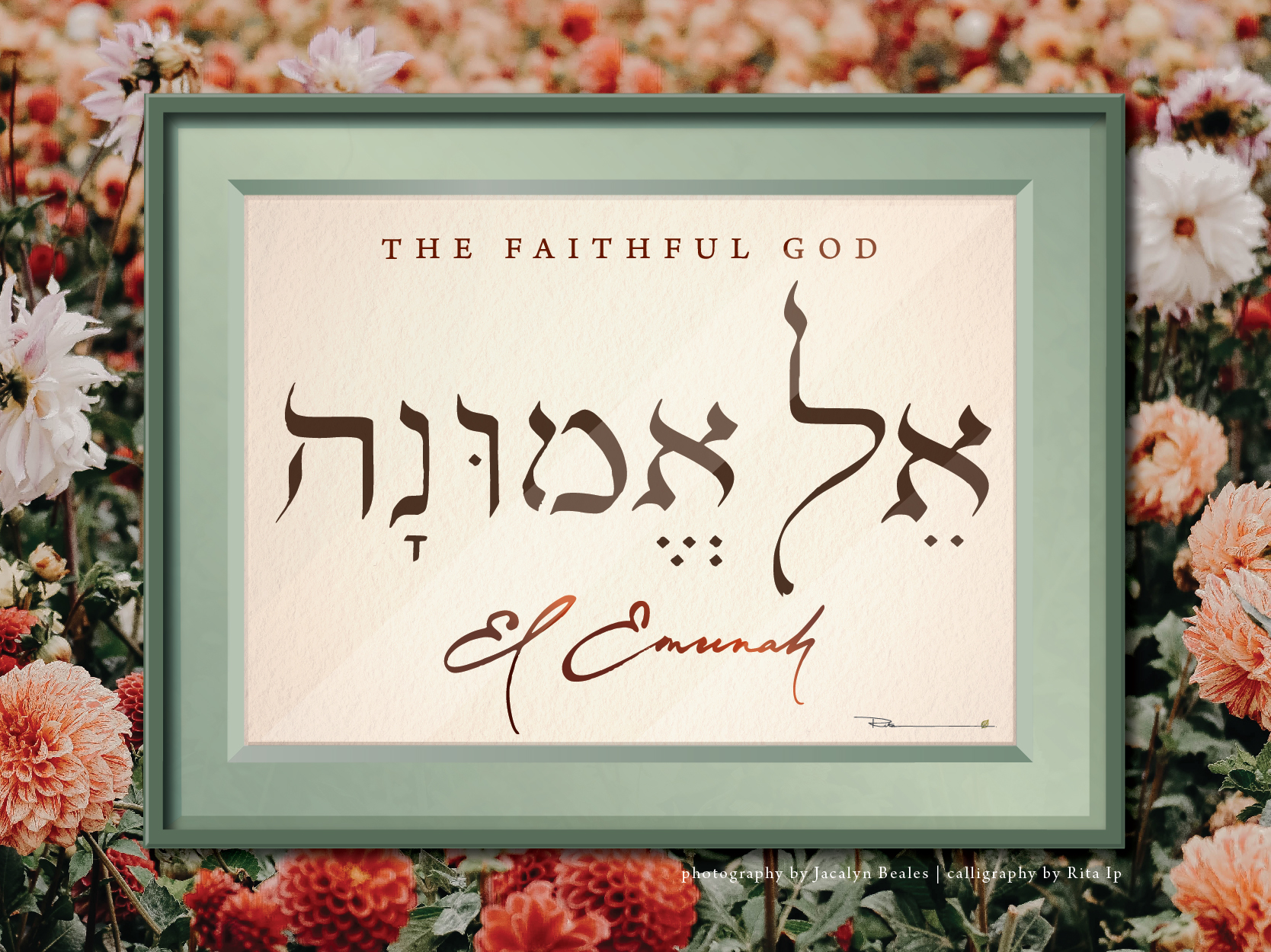 PRAYER
I honor You for the faithfulness You have shown throughout history. Every promise You make has either come true or will come true. I exalt You because You remain faithful to the end, even when I am faithless.
Thank You for the assurance of hope that comes from Your unfailing promises. Thank You for answering my prayers even when my faith grows very weak. Time and again, Your faithfulness is evident in my life.
Forgive me when I allow facts and circumstances to speak louder than Your truth and promises.
I need You, Lord. My life depends on Your faithfulness. Grant me unwavering faith in You, for it is impossible to please You without faith.
Because You are the Faithful God, I declare that I will live a faith-filled life. Boldly and expectantly, I will choose faith and live by Your promises.
………………………………………………………………………………….
A FEW FACTS…
The word "Emunah" derives from the verb "aman," meaning to believe, support, or confirm, which also gives us the word "Amen."
The Hebrew term "Emunah" encompasses qualities of firmness, steadfastness, fidelity, faithfulness, and truth.
In the Bible (e.g., Deuteronomy 7:9), another term used to describe "The Faithful God" is "El Hanne'eman". This particular term originates from the Aramaic language.
………………………………………………………………………………….
EXERCISE 1:
TWO-WAY JOURNALING
On a fresh page in your journal, take a moment to address The Faithful God. Engaging in a two-way journaling practice opens up a space for meaningful conversation with Him. Consider it a sacred space where you can freely express your deepest emotions, gain clarity about yourself or your circumstances, reshape your narrative in alignment with Him, and seek His guidance in formulating plans or finding solutions. As you dedicate time to listen to His response, capture the dialogue in writing. Let us invite the Holy Spirit to lead you on this journey.
[Part 1]
Dear Father / The Faithful God, …
[Part 2]
Dear child / (your name), …
………………………………………………………………………………….
EXERCISE 2:
DECLARATION
He is The Faithful God, unwavering in keeping His promises and honoring His covenant of love. How does this truth shape your life today? Take a moment to reflect and pen a faith-filled declaration that resonates with your present circumstances.
Because You are The Faithful God, I declare I can / I will / I am…
Speak these words of faith audibly to both God and yourself. Engage in the practice of vocalizing these words until they flow effortlessly from your heart. If they do not yet feel entirely natural, recognize that you are still growing in your faith. Persevere in your practice, your faith will put a smile on His face.
………………………………………………………………………………….
BLESSINGS
Day 19 of HE has come to a close. On this day, I extend my prayers for a continuous upward spiral of faith in your life. Whenever you entrust your faith in Him, you will encounter His unwavering faithfulness, which, in turn, will fortify your faith in Him.