ADONAI YIREH
from You Version
The LORD Will Provide
Genesis 22.14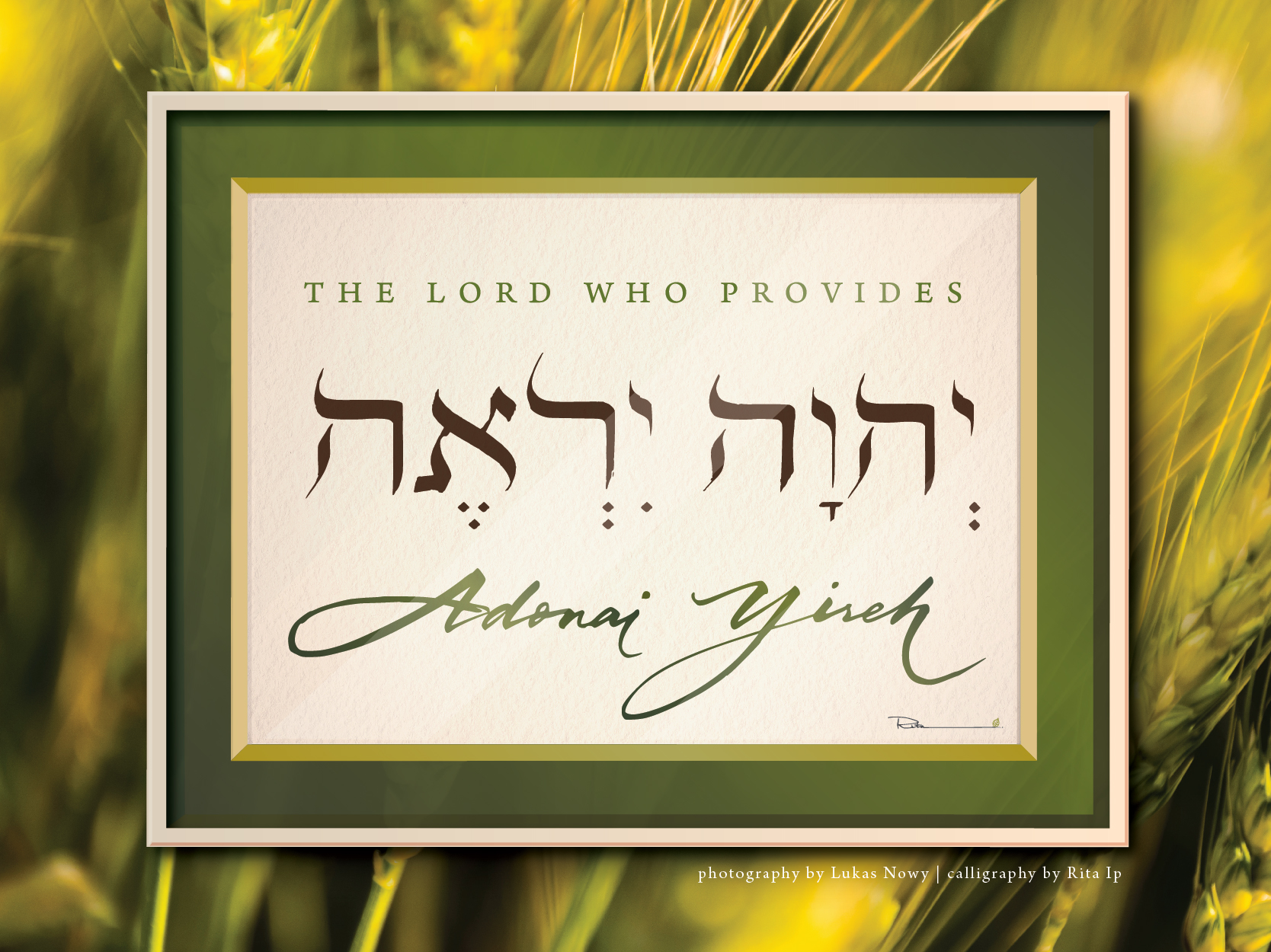 MUSIC FOR DAY 11: MOUNT MORIAH
PRAYER
You are the LORD, my Provider, and I exalt You. You are a loving Father who provides abundantly according to the riches of Your glory in Christ Jesus.
Thank You for caringly supplying all my needs. I must thank You also for what I don't have, so I may learn to depend on You even more.
Forgive me for spending even a moment worrying, for not counting my blessings, but focusing on what I lack. Forgive me for being ungrateful and entitled.
Train my heart to seek first Your kingdom and Your righteousness, and anchor my life on Your unfailing promises. Let me be an answer to someone's prayer; stir my heart to give generously what You have graciously given me.
Because You are the LORD Who Provides, I declare I will steep my life in Your abundance and Your faithfulness.
………………………………………………………………………………….
A FEW FACTS…
God provided a ram for Abraham to sacrifice instead of his son Isaac. Abraham named that place Adonai Yireh. (Genesis 22:1-19)
Adonai Yireh, Yahweh Yireh, Jehovah Jireh, YHWH Jireh refer to the same title of God.
Yireh comes from "lirot" which means "to see," or "to foresee." The same root is used to describe someone who can see things others cannot, e.g. a seer or a prophet. Adonai Yireh is literally, The Lord Who Sees, or The Lord Who Will See To It.
While some commentators do not consider Adonai Yireh a specific name of God, being our provider is undeniably a significant attribute of God that should not be omitted from this series.
There is a widespread belief that Mount Moriah, where God provided the ram, and Golgotha, where God provided Jesus as the sacrificial lamb, could be in the same location.
………………………………………………………………………………….
Exercise 1:
TWO-WAY JOURNALING
Two-way journaling offers a precious opportunity to declutter our minds, attune to the divine, and realign ourselves with the presence of God. It can be a deeply therapeutic experience. In today's session, we will direct our words towards The LORD Who Provides. Take a moment to patiently wait and attentively listen to Him, allowing His wisdom to illuminate your current circumstances. Together, let us seek the guidance of the Holy Spirit through prayer.
[Part 1]
Dear Father / The LORD Who Provides, …
[Part 2]
Dear child / (your name), …
………………………………………………………………………………….
Exercise 2:
DECLARATION
He is the One who sees ahead of you and provides for you. How does this connect to your current situation? Please be specific. A faith-filled declaration transforms your thinking and aligns your perspective with God's reality.
Because You are the LORD Who Provides for me, I declare I can / I will / I am…
Speak your declaration aloud, declaring it over your life. If it evokes chills and excitement, it's working within you! Repeat it throughout the day and before sleep, and place it somewhere visible as a reminder.
………………………………………………………………………………….
BLESSINGS
Day 11 of HE has come to a close. My prayer is that you receive the anointing of Abraham's faith and obedience. These qualities will not only grant you access to His divine providence, but will also bring blessings to the lives of countless others..