PELE YO'ETZ
from You Version
Isaiah 9.6
Wonderful Counselor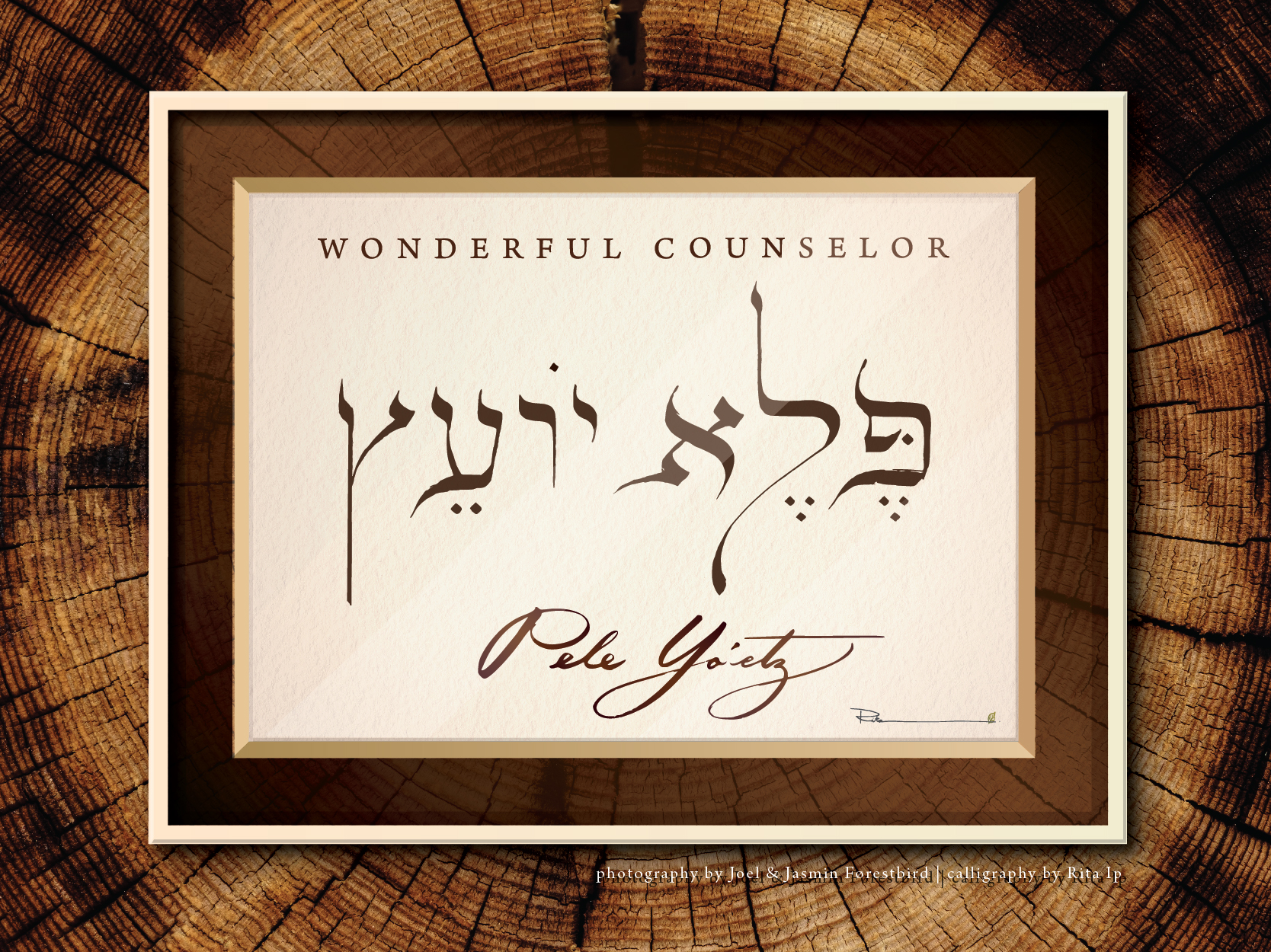 PRAYER
I praise You, my Wonderful Counselor. As the heavens soar high above the earth, Your ways surpass my ways.
Thank You for showing me that Jesus is the only way to the Father and for guiding me every step of the way. You are all-knowing and all-loving, and You always have my best interest at heart.
Forgive me for my self-reliance; I tend to lean on my limited understanding, perception, knowledge, and ability. Forgive me for making decisions without seeking or involving You.
Reveal to me how much I need Your divine counsel and guidance in all areas of my life. Grant me a child-like heart that places complete trust in You. When I veer off course, gently bring me back with Your loving hand.
Because You are my Wonderful Counselor, I declare as I acknowledge You and I seek You; You will illuminate my path.
………………………………………………………………………………….
A FEW FACTS…
The Hebrew word Pele defies human explanation. It is exclusively used in the Bible to describe God's deeds and words, never attributing it to human works.
Pele Yo'etz is often translated as "Wonderful Counselor/Counsellor," but it can also be translated as "Wonderful Advisor" (Contemporary English Version) or "Extraordinary Strategist" (New English Translation).
Pele Yo'etz is a component of Jesus' fourfold prophetic name (Isaiah 9:6).
………………………………………………………………………………….
EXERCISE 1:
TWO-WAY JOURNALING
When I need to seek God's guidance, two-way journaling is my preferred tool. It helps me navigate my inner world, untangle my thoughts, and uncover hidden feelings in His presence. It opens me up to listen to God, tap into His wise counsel, and shed light on my path.
Today, let's write to our Wonderful Counselor. It's a perfect opportunity to acknowledge His guidance and seek His direction. Invite the Holy Spirit to guide you. Listen to His response and write it down.
[Part 1]
Dear Father, Wonderful Counselor …
[Part 2]
Dear child / (your name), …
………………………………………………………………………………….
EXERCISE 2:
DECLARATION
Knowledge acquires facts, while wisdom integrates them into life's tapestry. We know that He is the Wonderful Counselor, but how does this truth relate to the way you live today? Write your declaration. Make it personal and meaningful, so that it gives you chills every time you say it.
Because You are my Wonderful Counselor, I declare I can / I will / I am…
Repeat this declaration until its essence seeps into your very being. Harness the transformative power it holds, for your faith delights and moves God's heart in unimaginable ways. Consider displaying your declaration where you can see it daily, a constant reminder of your truth.
………………………………………………………………………………….
BLESSINGS
We have reached the end of Day 7 of HE, and I sincerely appreciate your presence. Today, my prayer is that you wholeheartedly embrace and find immense joy in God's counsel, recognizing His hand in shaping every aspect of your life for a divine purpose.