ADONAI SHALOM
from You Version
Judges 6.24
The LORD is Peace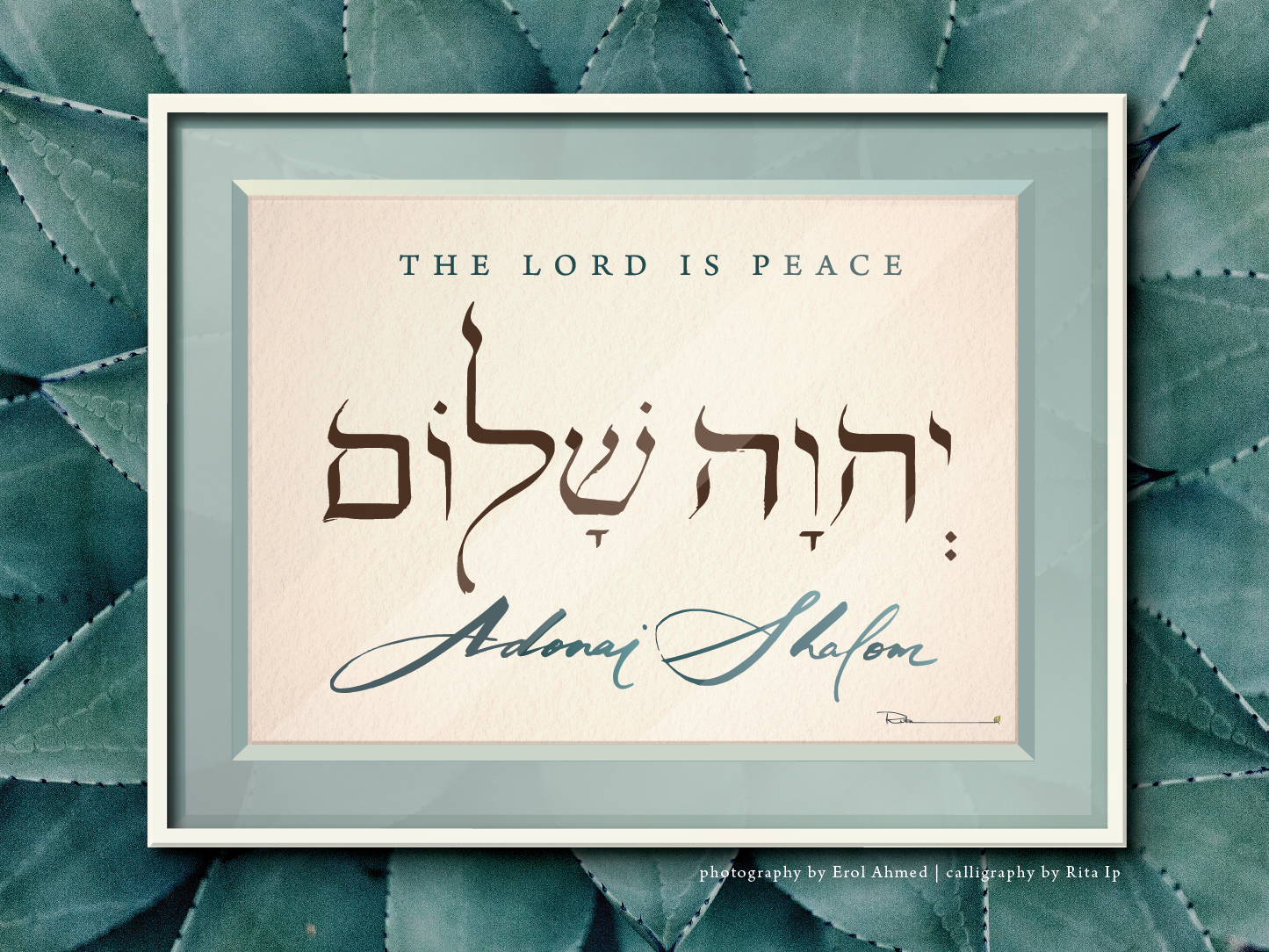 PRAYER
My Shalom, I adore You, for You are the peace that transcends all understanding, the peace that our troubled world ardently seeks.
Thank You, Jesus, for Your selfless sacrifice, bringing forth shalom to humanity. Without You, true peace remains elusive and unattainable. Thank You for calming every storm in me.
Forgive me for allowing fears and worries to infiltrate my heart, weakening my spirit and sometimes rendering me immobile.
Holy Spirit, come upon me, so I can fully receive and tangibly experience shalom in every dimension. Empower me to carry and radiate this peace wherever I journey. Grant me the strength to restore peace within my family, community, city, country, and the world I inhabit.
Because You are my Shalom, I declare that the same peace that Jesus experienced while on earth resides within me, reigning over my heart. No circumstance can snatch it away from me.
………………………………………………………………………………….
A FEW FACTS…
Shalom, the Hebrew word for peace, encompasses various meanings: completion, fulfillment, perfection, harmony with oneself and others, well-being, safety, universal flourishing, wholeness, and delight.
Adonai Shalom is one of three names for God that were associated with altars in the Bible. The other two names are Yahweh-Yireh (The LORD Will Provide), mentioned in Genesis 22:14, and Yahweh-Nissi(The LORD is My Banner), mentioned in Exodus 17:15.
When the angel of the LORD appeared to Gideon, commissioning him as a new judge to deliver the Israelites from the Midianites, Gideon feared for his life. However, the angel reassured him, saying, 'Peace! Do not be afraid. You will not die!' This encounter profoundly impacted Gideon, leading him to construct an altar named Adonai Shalom (The LORD is Peace)."
………………………………………………………………………………….
EXERCISE 1:
TWO-WAY JOURNALING
Today, we are reaching out to THE LORD is Peace. Let us invite the Holy Spirit to gracefully guide us into an intimate conversation. Open your heart wide and permit the Spirit to navigate the depths of your inner world. Be attentive to His words and document the exchange in your journal.
[Part 1]
Dear Father, THE LORD is Peace, my Peace…
[Part 2]
Dear child / (your name), …
………………………………………………………………………………….
EXERCISE 2:
DECLARATION
He Himself is peace, and He is the ultimate source of peace. How does this relate to your current situation? Take a moment to write a personalized declaration in your journal. You can begin like this:
Because You are The LORD is Peace / My peace, I declare I can / I will / I am…
Read it aloud multiple times, declaring it over yourself. This practice activates and revitalizes our faith. Experience the transformative power of aligning with God's perspective on your situation.
………………………………………………………………………………….
BLESSINGS
Day 6 of HE has come to an end, and I want to express my gratitude for your presence. My prayer is that the One who once stilled the tempest with a commanding "Peace! Be Still" will also bring tranquility to the turbulent storms in your life. He is always in full control.
Allow me to conclude with a cherished quote by Bill Johnson: "Peace is not the absence of SOMETHING, it is the presence of SOMEONE."